The Argos Fire Protection Territory is a combination fire and EMS territory. They provide fire protection, rescue service, emergency care, and transportation for the Town of Argos as well as Green and Walnut Townships in Marshall County.
In emergencies we can be reached by dialing 911. For non-emergency situations, feel free to contact us at 574-892-5995 (Fire) or 574-892-6887 (EMS).
If you have any questions regarding ambulance or fire billing, please contact AccuMed at 888-330-5405.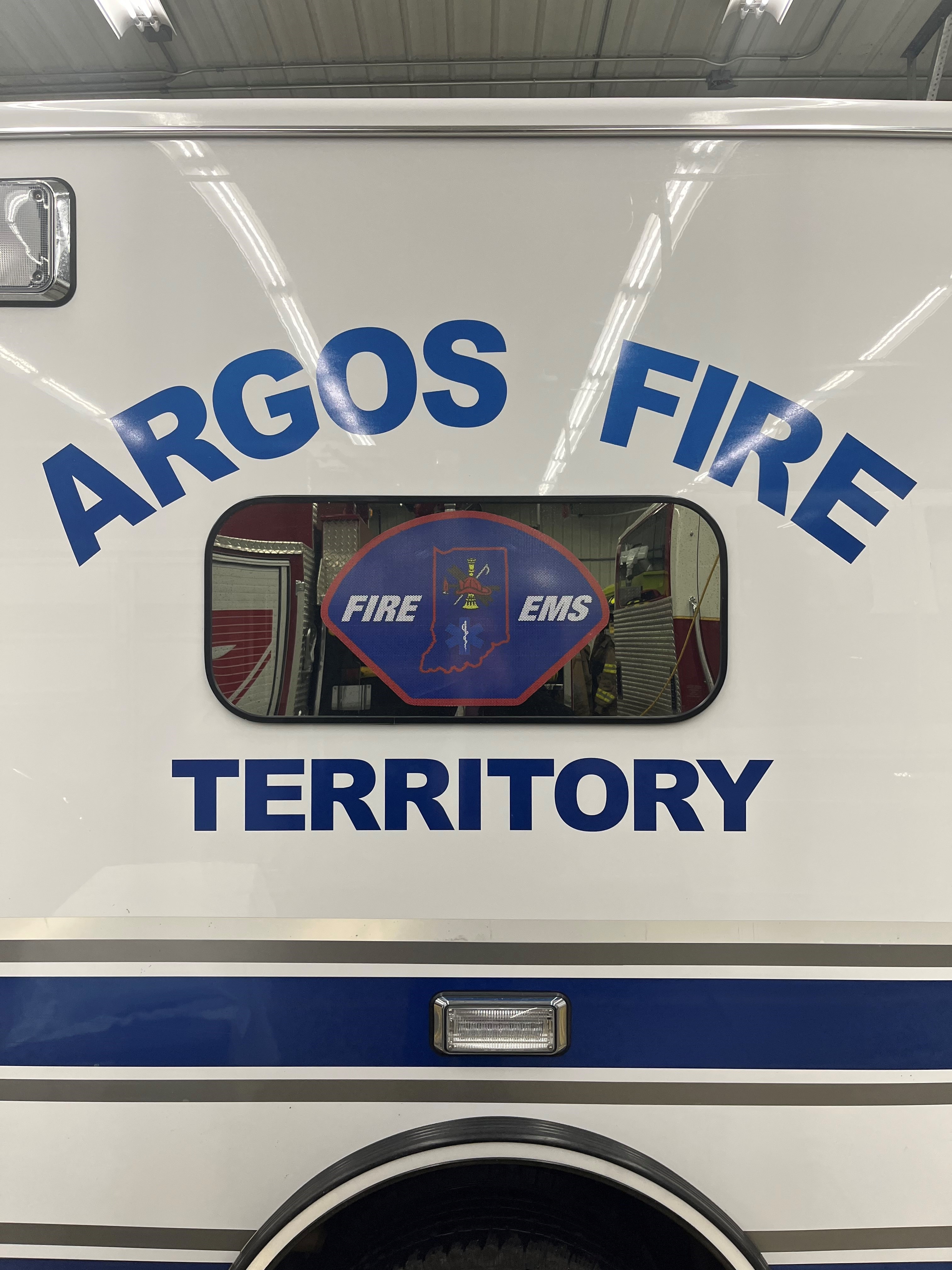 Fire Territory Officers
Mark Dean - Chief *
Richard Miller, Jr. - Assistant Chief *
Travis Thompson - Lieutenant, Secretary/Treasurer
- Lieutenant, Training Officer
Fire Territory MEMBERS
Annalyse Lindsey, EMT/Firefighter *
John Fishburn, EMT/Firefighter *
Tucker Thayer
Joseph Ruffing
Ed Barcus, EMS Driver
Martin Quimby
Doug Good
Pete Devos, EMT/ Firefighter
Dennis Mark
Phil Dean, EMT/Firefighter
Denis Good
Coleen Rentschler
George Null
Kory Ellis
Mark VanDerWeele, EMS Driver
Kevin Dunham, EMS Driver
Scott Samuels
Paul Stearns
Chad Wallace
Dave Mullaney
Bob Lyon
Denise Terry, EMT
Jeremiah Roush
* Full Time Employee
Fire Territory Tips
The Town of Argos has a tireless group of dedicated fire and ambulance workers. We have compiled this list of tips below to help us better serve the community we love and protect.
Street Addresses
Please make sure the address number on your home or rental are clearly marked and visible from the street. Address numbers need to be at least 3 inches in height.
Narrow Streets
Argos has many narrow streets making it difficult for emergency vehicles to maneuver easily. Our zoning ordinance requires that each residence have two off-street parking spaces. These parking spaces must be paved or stoned. We ask that you avoid parking on these narrow streets whenever possible so that our emergency services can reach their destination quickly and safely.
Smoke Detector Batteries
Please remember to replace the batteries in your smoke and carbon monoxide detectors every six months. Change the batteries when you change the time in the spring and fall.